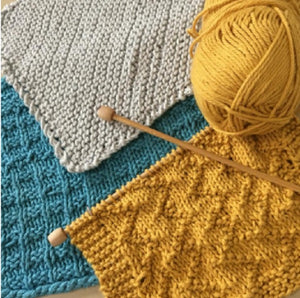 Beginning Knit
Learn all the basics of knitting in this 4 part class. First learn how to cast-on, knit, purl, and bind-off with a simple piece that will be used as part of a charity afghan. Then, go on to a project of your choice. By the time you're done, you'll have learned increases, decreases, and how to follow a pattern too!
4 parts, 2 hours each class
Up coming  adult classes: 
Sundays November 26, December 3, 10 and 17 from 2 to 4pm
Saturdays January 6, 13, 20 and 27 from Noon to 2pm
The Knitty Gritty!

Please contact us at least one week in advance for class reservations.
Payment is due at least 48 hours in advance of the class.
Private lessons are available for $15/half-hour or $30/hour of one-on-one instruction.
There is never any charge for help on class projects.
Except where noted, yarns must be purchased from Idea Studio for class.
If you must cancel your class, please call at least 48 hours in advance of the class for a full refund.
If you cancel less than 48 hours before the class, we will happily apply your class fee towards another class of your choosing.

Any unattended class must be made up within 30 days

If you need ongoing help on any of your projects, please sign up for our Coach Program. We offer 12 half hour help sessions for $80.  You only use them when you need help.  Use them over one project or ten, it doesn't matter. They don't expire, and you just need to call to make sure we are available when you want to come.