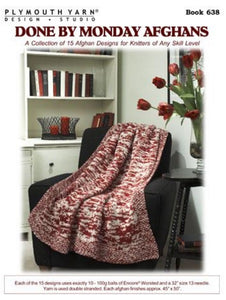 Done By Monday Afghans. Book #638
Done By Mondays Afghans Book #638
A Collection of 15 Afgahan Designs for Knitters of Any Skill Level. Featuring Encore Worsted Yarn from  Plymouth Yarn.
Each of the 15 designs uses exactly 10- 100g balls of Encore Worsted and a 32" size 13 knitting needle.
Yarn is used double stranded. Each afghan finishes approximately 45" x 50"